The Flat Rack container enables the transportation of bulky cargo with over dimensions. The Flat Rack container is a shipping containers without sidewalls or a roof. They have vertical front sides. This way, bulky cargo with over dimensions – like big machinery parts – can be shipped. The cargo is fixed and lashed on the Flat Racks with belts and chains to ensure safe transit. Trident leases and sells containers. We have both used and new containers in our stock. Please
contact us
for more information on the leasing, buying or renting conditions and prices.
The Flat Rack container enables the transportation of bulky cargo with over dimensions. The Flat Rack container is a shipping containers without sidewalls or a roof. They have vertical front sides. This way, bulky cargo with over dimensions – like big machinery parts – can be shipped. The cargo is fixed and lashed on the Flat Racks with belts and chains to ensure safe transit. Trident leases and sells containers. We have both used and new containers in our stock. Please
contact us
for more information on the leasing, buying or renting conditions and prices.
Types of containers
There are two types of Flat Racks. Those containers with fixed vertical walls; these are called fixed Flat Rack containers. There are also containers with foldable walls. We call those the collapsible containers.
A Flat Rack container is sometimes also called the Open Top Flat Rack container. Yet, these should not be confused with the Open Top containers. The Open Top containers have a tarpaulin roof and they have walls on all sides of the container.
Trident Container Leasing B.V. sells and leases the collapsible and fixed containers. We have these sizes available in stock:
Dimensions Flat Rack container
The containers have these sizes:
| Type of container | Size | Type | ISO | Capacity m3 | Inside Length | Inside Width | Inside Height |
| --- | --- | --- | --- | --- | --- | --- | --- |
| 20'Flat Rack | 2086 | Fc | 22P3 | | 5.612 | 2.200 | 2.213 |
| 40'Flat Rack | 4096 | Fc | 42P3 | | 11.666 | 2.224 | 1.949 |
The above container internal dimensions are standardized by ISO for guidance only. There may be occasional minor deviations.
Please click on the individual containers for the container specifications and weight.
Container modifications
We can adjust the containers so they suit your wishes. These containers can be adjusted, for instance, with spray paint in company colours and logo, a steel floor and in high cube.
Please contact our sales team if we can advise you on this topic.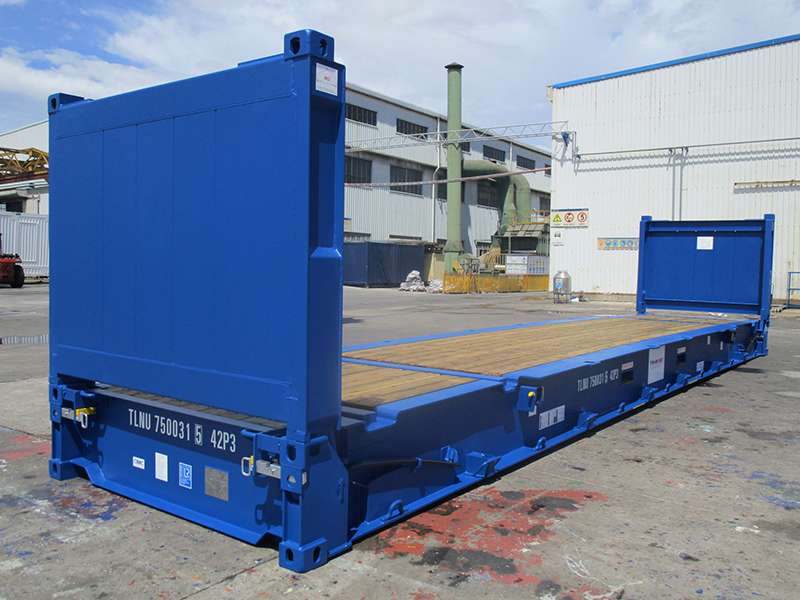 New and used containers
Trident Container Leasing B.V. has new and used containers for sale. Our container trading and leasing divisions focus on leasing and selling container equipment on a global basis to container trading companies, logistics providers and end users.
Quotation container prices and costs
Please contact us to hear about the attractive conditions for buying and leasing containers.